Sunday, time for a brooch collection. This time round we see a part of the Annelies' collection. She is the owner of the blog Allihoppa, a DIY-queen and a good friend of mine. She was also the star at the Best Kept Secret Festival, she helped out behind our booth (thanks again, Annelies!)
Voor het bericht in het Nederlands scroll verder naar beneden!
What is your favorite brooch in your collection and why?
"My favorite brooch is – oh how can I choose – well, I still think the wooden fox. Which I got from my husband who saw it on the website of the Bont voor Dieren (a organization against fur)."
"There is by the way a funny story to it. The first time I wore the brooch I didn't get it pinned properly. I asked my husband if he could help me. And then we both smelled fire. We went out looking, but fortunately saw no fire. As we went back to pinning the brooch, we smelled again fire.
Guess what? It was the fox! It is lasercut and it smells pretty good.
By the way, not all my brooches are pictured. I think there are a few still pinned on my cardigans.
Not smart, before you know it they end up in the laundry basket…"
What was the first brooch from your collection?
"I can't remember. I owned a bunch of other brooches, but I did not like them anymore. I kept only the finest."
Which brooch is last added to your collection?
"Those are the big red flower and pink pineapple, two Broesj-brooches. I get lots of nice comments on those big red flower. And pineapples are hip right?"

Which brooch is still on your wish list?

"This fantastic ceramic brooch from Mouse Blossom. I'm in love with the whole serie of these brooches."

"I like the wooden brooches from Snug. They are very beautiful."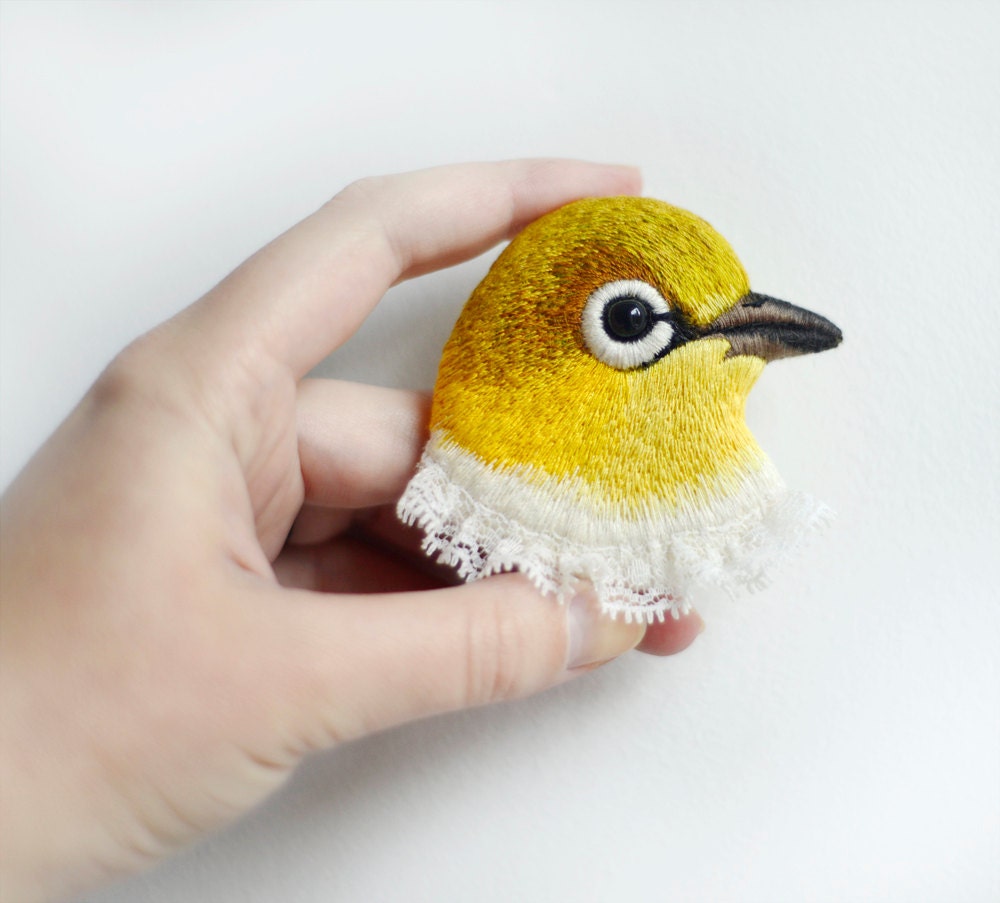 "And these handmade bird brooches."
Do you have a special story to tell with one of the brooches?
"All my brooches have a special story.  The Twin Peak Brooch (my log has something to tell you) reminds me of my college days. While we watched Twin Peaks a bunch of friends and I always ate a crazy amount of food.
The blue wooden bird (that accidentally found its way into the laundry and now misses its clasp) I bought during my honeymoon in Berlin.
The cat on the leaf I received from my mother in law.
I love them all!"
Wat is je favoriete broche in je collectie en waarom?
"Mijn favoriete broche is – oh hoe kan ik nou kiezen – nou ik denk dan toch de houten vos. Die heb ik van mijn man gekregen die hem zag op de site van de Bont voor Dieren. Een heel verantwoord brocheje ook nog dus!
Er zit trouwens nog wel een grappig verhaal aan vast. De eerste keer kreeg ik de broche niet goed op. Ik vroeg mijn man of hij me even hielp. En toen roken we allebei brand. We zijn nog buiten gaan kijken en ruiken, maar zagen gelukkig nergens brand. Toen we weer verder gingen met opspelden, roken we weer brand. Wat bleek nou? Het was de vos! Hij is gelasercut en dat ruik je gewoon best goed."
"Op de foto staan trouwens niet al mijn broches. Ik denk dat er een paar nog op vestjes zitten. Niet slim, want voor je het weet was je ze uit met broche en al."
Wat was de eerste broche van je collectie? 
"Dat kan ik me niet herinneren. Ik had eerder wel een boel andere broches, maar die vond ik niet mooi meer en heb ik weggedaan. Alleen de mooiste mogen blijven."
Welke broche is als laatste toegevoegd aan je collectie?
"Dat zijn de grote rode bloem en de roze ananas, twee Broesj-broches. Ik krijg veel leuke reacties op die grote rode bloem. En ananassen zijn sowieso hip toch?"
Welke broche staat nog op je verlanglijstje?
"Deze fantastische keramieken broche van Mouseblossom. Ik ben weg van de hele serie van deze broches.
Ik vind de houten broches van Snug erg mooi.
Heb je eventueel nog een bijzonder verhaal bij één van de broches?
"Aan al mijn broches zit wel een herinnering vast. De Twin Peaksbroche (my log has something to tell you) doet me denken aan mijn studententijd toen ik met een stel vrienden altijd schandalig veel ging eten terwijl we Twin Peaks keken.
Het blauwe houten vogeltje (dat per ongeluk is meegewassen en nu zijn speldje even mist) heb ik gekocht tijdens mijn honeymoon in Berlijn.
Het poesje op het blad heb ik gekregen van mijn schoonmoeder.
Ik vind ze allemaal leuk!"